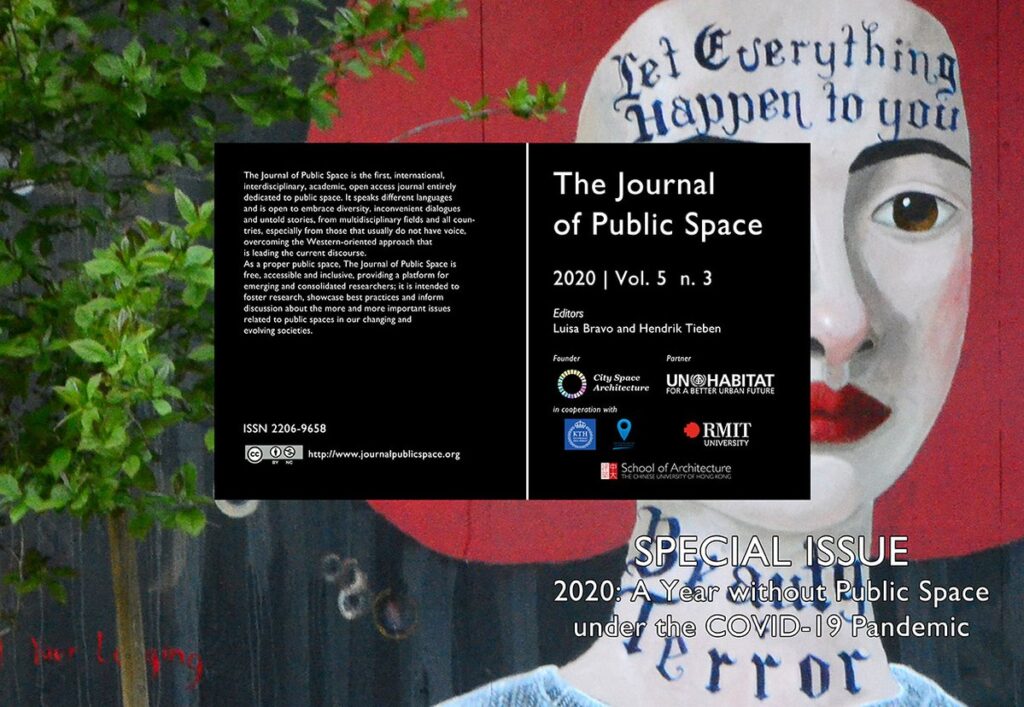 2020: A Year without Public Space under the COVID-19 Pandemic!
new publication of The Journal of Public Space
The Journal of Public Space published '2020: A Year without Public Space under the COVID-19 Pandemic'. This monumental publication of 280 pages witnesses the year we all lived on social distance dictated by COVID-19 health emergency, a measurement severely affected everyone's access to public space and with it creating a range of impacts on different levels. Delft University of Technology, as a worldwide recognised leader in the field of urban design and public space, united with more than twenty universities globally to question; how can we face this unprecedented emergency and get prepared to its consequences, with specific regard to health disparity? Will public space restrictions stay in place after the recovery period? Should we just aim to return to a pre-COVID status quo, or for a 'better normal'? And more generally, what will be the future of public space?
Maurice Harteveld, part of the scientific board, remembers how the situation induced by the COVID-19 crisis in early 2020 immediately brought together the global community of experts on the Design of Public Space; "I remember how the alarm bells didn't stop anymore in the third week of April. Health situation worsened progressively in China, and a new decree imposing quarantine became in act in Northern Italy. Public space was abandoned there. Without doubt, we started to share local insights and form a global perspective on the issues arising from the pandemic for public space the current situation of public space." Together with UN-Habitat, the United Nations Human Settlements Programme, this became an opportunity to collaborate to re-think how cities should be.
As the pandemic was moving across different continents and urban conditions, through shared online initiative public space experts across the world exchanged experiences of care, solidarity, entrepreneurship, academic perspectives, artistic interpretations, and creative practices of human resilience, engaging more than 100 speakers during 20 webinars from May to September 2020, and more than 2,700 registered attendees from over 80 countries, including representatives from UNHabitat. Global impact of the online initiative '2020: A Year without Public Space under the COVID-19 Pandemic' has been even broader by counting more than 72,000 page views in that same period. This publication encapsulates key learnings globally from the early stage of the pandemic, which stand relevant to this day when we face squarely the same issues as we step into gradually and navigate the post-COVID era.
Download full issue here