Sorry, that didn't work.
Please try again or come back later.
503 Error. Service Unavailable.
In the city today, we meet in public atria and shop in malls, we move along covered walkways and go from street to street by taking shortcuts through the buildings of a city block. In recent decades, the amount and proportion of public space within urban buildings has steadily increased, with much of it forming part of a larger interior and exterior pedestrian network. Yet, although interior public space has become an important constituent of the contemporary city and of our urban experience, it is rarely designed as such. Prompted by this disconnection, Maurice Harteveld has followed different leads to examine contemporary urban design in relation to public interiors. Through this research, he has documented in particular the urban analyses and architectural designs of Robert Venturi and Denise Scott Brown, in which interior public space is accorded significant and multiple roles. Ideas pioneered by Venturi and Scott Brown have become absorbed within architectural practice, notably their use of the Nolli Map introduced in their 1972 study of Las Vegas. Similarly, the concept of the 'rue interieur' seen in their earliest projects, has matured in their later work to include an internal street imbedded in a network of urban public spaces and pathways, both interior and exterior. However, although they refer to interior public space frequently in their writing, Venturi and Scott Brown have yet to describe their views on it in any great detail; a more focused examination that the following dialogue between Maurice Harteveld and Denise Scott Brown seeks to provide.

Harteveld, Maurice and Denise Scott Brown (2007) On Public Interior Space, In: AA files 56. London: Architectural Association Publications, pp. 64-73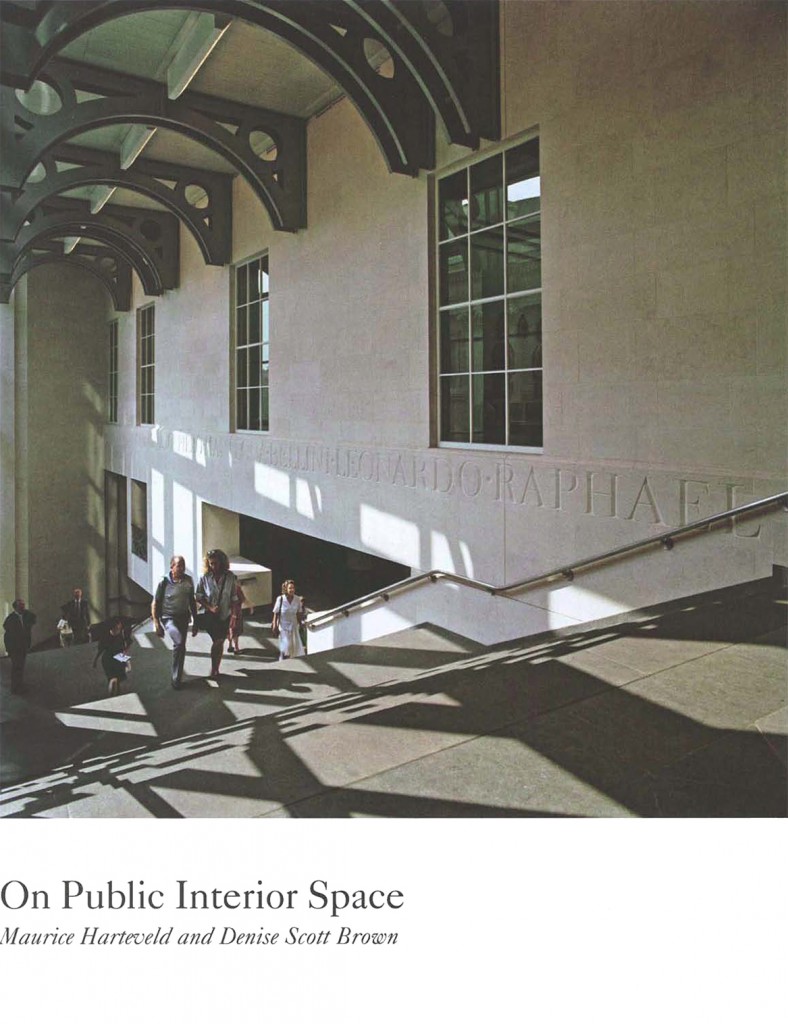 AA Files 56 also contains articles of Robert Venturi, including his 'photographs from the American Academy in Rome', and of Martino Stierli on 'Robert Venturi, the Grand Tour and the Revision of Modern Architecture'.
buy special issue:
AA Bookshop
Amazon
read single article:
JStor
Scribd