Sorry, that didn't work.
Please try again or come back later.
503 Error. Service Unavailable.
Besides meetings with the authorities and the official events of the state visit, King Willem-Alexander of The Netherlands visits the 'Next City Living Lab', the Dutch pavilion at Beijing Design Week. The expo embodies innovation and creativity for a better urban future, it also aims to demonstrate the spirit and strengths of Dutch design: Delft University of Technology presents Reclaiming the Human Space to promote social sustainability and better standards of life. In this expo, the king is being informed on the future urban challenges in the People's Republic, including humanisation of planning, integration of social groups, recreation of community places, and rehabilitation of daily-life environments. This agenda is exposed in the midst of other exhibitions from leading Dutch design firms including West8, OMA, MVRDV, NL Architects and UN Studio.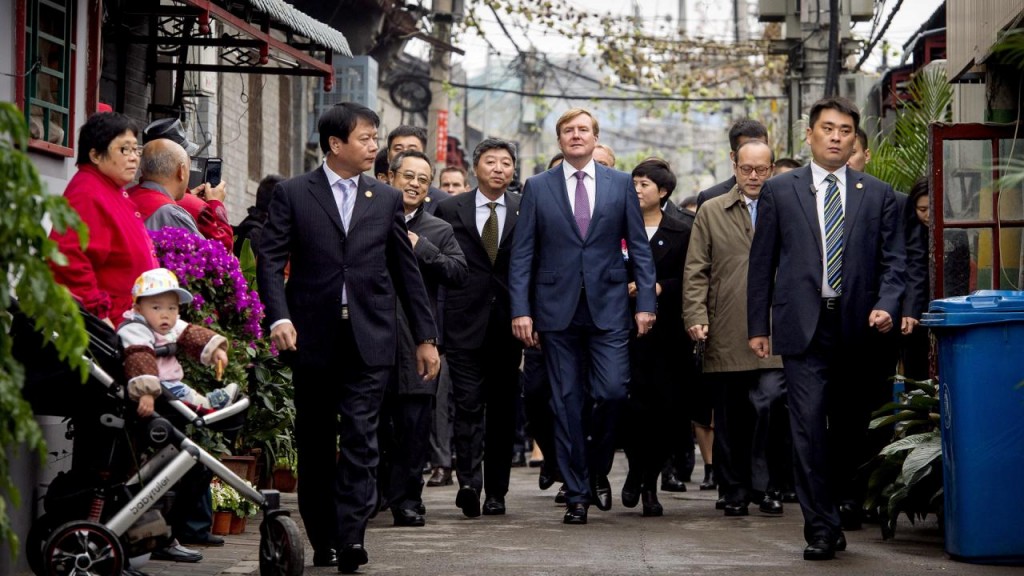 The King and Queen have commenced their state visit to China with a video message to the Chinese people. The Dutch King Willem-Alexander expressed:
"More and more Chinese students, scientists, businessmen and tourists discover the Netherlands. A country that successfully cooperates with China, on a better quality of life, on innovation and on a cleaner environment."
荷兰国王威廉·阿历山大:
"越来越多的中国学生、科学家企业家和游客对荷兰感兴趣。荷兰与中国已经建立了强有力的合作关系,包括在提高生活质量、科技创新与环境保护方面。"
His Majesty King Willem-Alexander and Her Majesty Queen Máxima pay a state visit to the People's Republic of China at the invitation of President Xi Jinping. The King and Queen are accompanied by foreign minister Bert Koenders. A broad-based economic mission visits also China at the same time. As part of the mission, Minister for Agriculture Sharon Dijksma heads an agriculture and food delegation and State Secretary for Health, Welfare and Sport Martin van Rijn a life sciences and health delegation.
China is modernising rapidly. The country is focusing not only on growth itself, but also on the quality of that growth and on the environment. As a strategic partner in a wide range of areas, the Netherlands can help China achieve sustainable urbanisation. During the state visit, attention focuses among other things on farming, the agri-food industry, horticulture and landscape development, e-commerce, sport and design.
see:
More info on the expo Reclaiming the Human Space
Latest news, Royal House of The Netherlands
Video message, Consulate General of the Netherlands in Shanghai