Sorry, that didn't work.
Please try again or come back later.
503 Error. Service Unavailable.
The proposed redesigns for Benjamin Franklin Life & Legacy Museum as situated in Philadelphia's Independence National Historical Park have been quite worrisome.
As an architect, urban designer and academician, I have been grateful for the request for input by of the U.S. National Park Service. It is an great acknowledgement of the public importance of this particular place in society and city, in the State, the Nation and beyond. Franklin Court, including its museum, is situated just off Philadelphia's Independence Mall and, as we all know, it symbolises 1776 likewise. In retrospective, it is a crucial part of the final stages of a project presented in the built-up to the sesquicentennial of the American Independence.
Honouring one of the nation's founders in the famous project by the design of the firm Venturi and Rauch, now under reconsideration, it is part of the same urban construction. According early plans, Robert Venturi and Denise Scott Brown extended the network of public spaces through the site of the national shrine. Where Ed Bacon had proposed an International Exhibition to celebrate the bicentennial city and favoured International Style to build a Benjamin Franklin museum on the site, the Philadelphia School, dubbed 'Scuola di Venturi', had chosen differently. Grand design was replaced by a kind of grassroots development. Supported by the public government, they retained some of the sixties activist spirit with their deep involvement in community planning. The result would be identified as Philadelphia '76, a series of individual pavilions, museums, reconstructed or rehabilitated historic houses, and taverns, representing our pluralist society. Ultimately, 'We the People' was brought to the people. Venturi himself had built the masterpiece; a so-called Ghost House on the site of Franklin's home. In a 'significant and significative scheme' and 'in anticipation of crowds who would visit' it architecture in a sense disappeared; what was left was sign.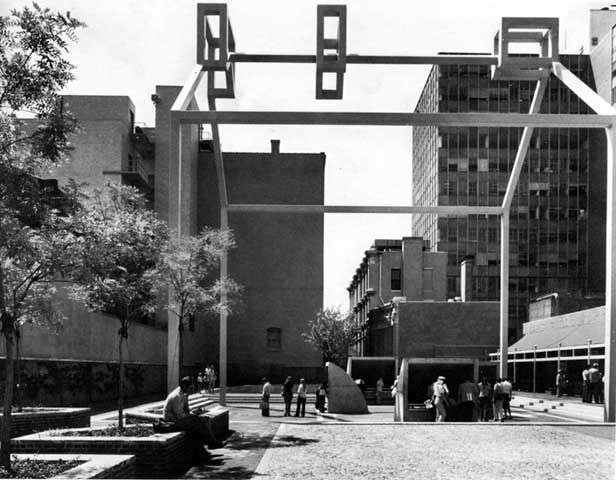 I state that the design of Benjamin Franklin Life & Legacy Museum has become closely interwoven with the contemporary idea of publicity, community and civic society, echoing the celebrated 'unalienable rights', which are extended beyond national recognition for federal history. The humble architecture and the permanent urban setting of these valuable cornerstones of the American Independence and, self-evident, the equality of all humans in general, has become a cornerstone itself. Thus, any rehabilitation has to be handled with great care. From this perspective, the proposed redesign as presented on the compliance meeting of March 23, 2010 and published on NPS website neglects this essence of the place. The project has needed serious reconsideration, including design guidelines and a review of the assignment by the designers. With my comments I have contributed to the rescue of this important place, as well as, and I quote INHP announcement of last May 5, "a new appreciation of the life and accomplishments of Benjamin Franklin".
See:
Letter of Comments
Venturi, Scott Brown's Franklin Court Threatened