Sorry, that didn't work.
Please try again or come back later.
503 Error. Service Unavailable.
The Architecture and the City: Public Realm/Public Building research group of the Faculty of Architecture and the Built Environment, Delft University of Technology focuses on questions regarding the mutual relationship between the city and its public realm. This is a relationship that can only be considered in socio-cultural and economic context. The idea of the public realm here refers to an intermediate 'space', which facilitates and mediates between different groups of inhabitants and individuals; the idea of the public realm as the space of (ex)change of ideas, opinions and beliefs of the different groups of users. Therefore, the architecture of the city and its actual qualities form the main framework of this research. Within this context urban blocks, as interface between architecture and urban design, and public buildings are seen as crucial architectural elements. Their functioning and organisation are physically, symbolically, socially and economically fundamental to the city. As such they form a domain both of architectural convention and experimentation. In terms of research and design methods architectural typology, typo-morphology and research-by-design hold a central position in our group's approach.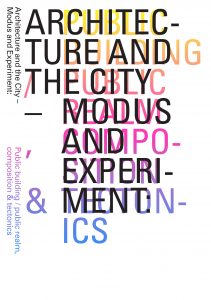 Booklet:
Architecture and the City: Modus and Experiment
Team: Susanne Komossa (coordinator) Roberto Cavallo, Michiel Riedijk, Nicola Marzot, Olindo Caso, Hans Teerds, Sien van Dam, Xialu Wang, affiliated: Maurice Harteveld and Inge Bobbink