Sorry, that didn't work.
Please try again or come back later.
503 Error. Service Unavailable.
Roll out a carpet, hang up a screen. The sloped Centre Street in Sai Ying Pun has transformed into an outdoor cinema for one night at the Mid-Autumn Festival. While enjoying movies about the neighbourhood under the 'full moon', community members and the general public are invited to re-imagine the public spaces of one of the oldest districts in Hong Kong.

'Magic Carpet: Re-envisioning Community Space in Sai Ying Pun' is initiated by the School of Architecture and the School of Journalism and Communication, of The Chinese University of Hong Kong (CUHK). 'Magic Carpet' is an outreach project combining documentation of daily life (screening), community engagement and urban design. Located in the western part of Hong Kong Island, Sai Ying Pun has undergone drastic changes in recent years, due to urban renewal and major infrastructure projects (e.g. the MTR West Island Line to be opened next year): old tong lau buildings and traditional shophouses that once characterised the community are disappearing rapidly, while upscale, westernised bars and restaurants, high-end residences and luxury hotels start to flourish – this transformation of Sai Ying Pun epitomises urban gentrification across Hong Kong today. Through their participation in the event, local residents and the public can enjoy the public space while rethinking its possible functions. The 'Magic Carpet' outdoor cinema is held at the heart of the district right next to the Sai Ying Pun Market. Great example!
Magic Carpet: Re-envisioning Community Space in Sai Ying Pun
Thursday 19 September 2013
Centre Street (next to Sai Ying Pun Market)
Hong Kong
Events:
Screening – 18:30-22:00
Drawing booth – 16:00-22:00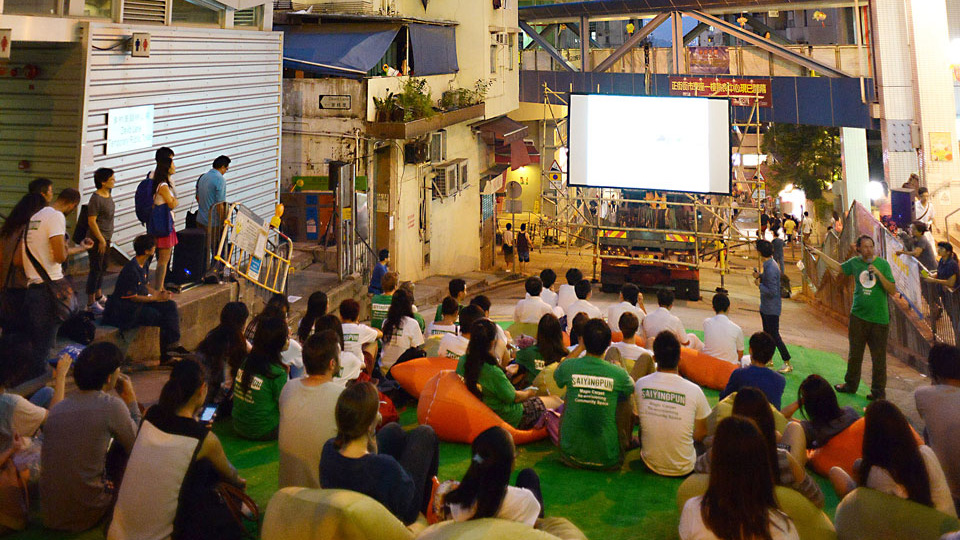 See:
Magic Carpet project website
Magic Carpet project on Youtube
CUHK Project Team:
prof dr Hendrik TIEBEN, prof. Colin FOURNIER, prof. Anthony FUNG, and YIP Kai-chun
Project Partners:
King's College (英皇書院) and The Conservancy Association Centre for Heritage (CACHe, 長春社文化古蹟資源中心)